Shipyard Doors are the perfect solution for use on shipyard blasting/painting facilities and port buildings. The door provides full width and height access to the chamber. No wasted space and no tracks to fill with abrasive. Doors are manufactured from German made 900gr/m2 fire and UV damage resistant fabric to provide years of trouble free service.
Shipyard Doors are manufactured to CE Standards and comply with all current European Safety Directives. Double-redundant design and components ensure safe operation. Standard doors are built to withstand wind gusts of 140km/hr. Special design doors for hurricane wind resistance of 230km/hr  
One piece doors can be manufactured up to 50m wide x 30m high. The vertically opening door is light weight, wind resistant and fast operating.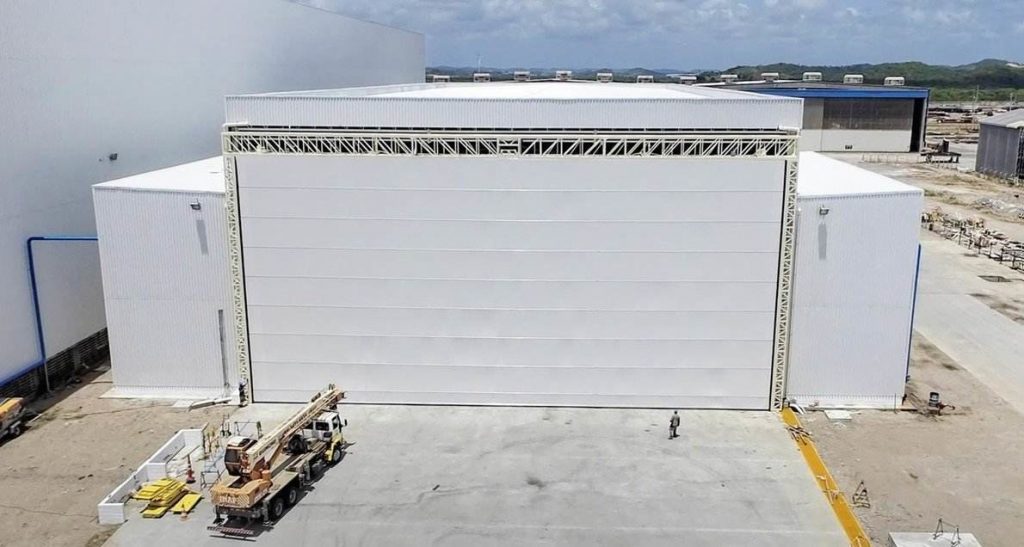 Shipyard Doors do not require side pockets on the edges of the buildings store the opened door. This saves several meters of wasted space.
The door is lifted vertically and stored out of the way above the building opening.
Internal seals provide a complete separation of the indoor and outdoor atmosphere. Regardless of the requirement; to keep cool or hot air in, to keep dust, sand and dirt out or to maintain relative humidity levels, this excellent sealing integrity will ensure your requirements are met.
Shipyard Doors can be operated even under strong wind loadings up to 140km/hr. Standard door wind resistance is 180km/hr in closed position, special application doors can be produced up to 260km/hr wind resistance.
All door designs are calculated using computerised wind simulations to ensure minimal deflection and safe operation.
Wind locks automatically engage to prevent door operation in excessive windy conditions.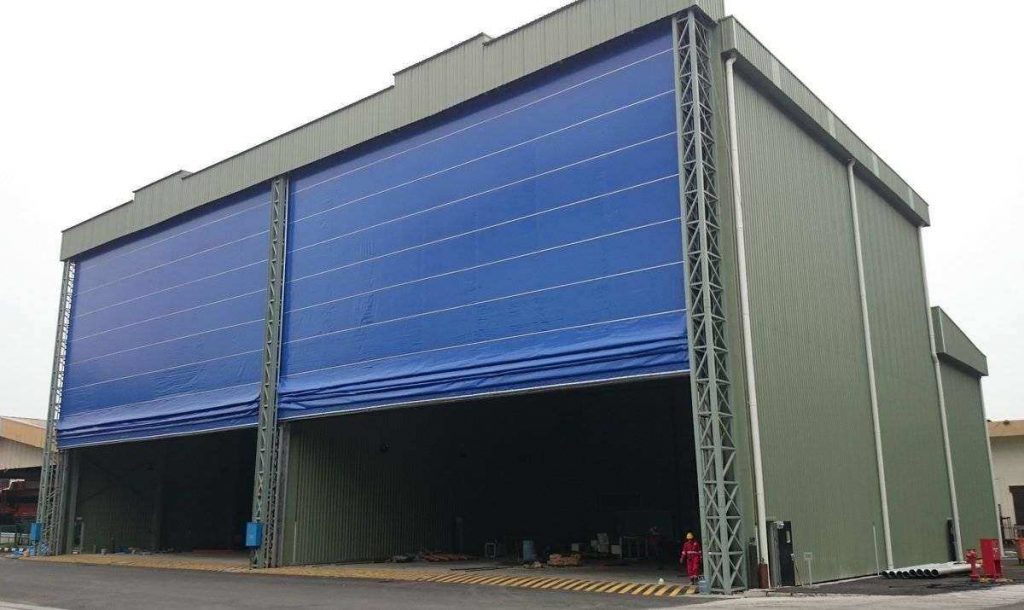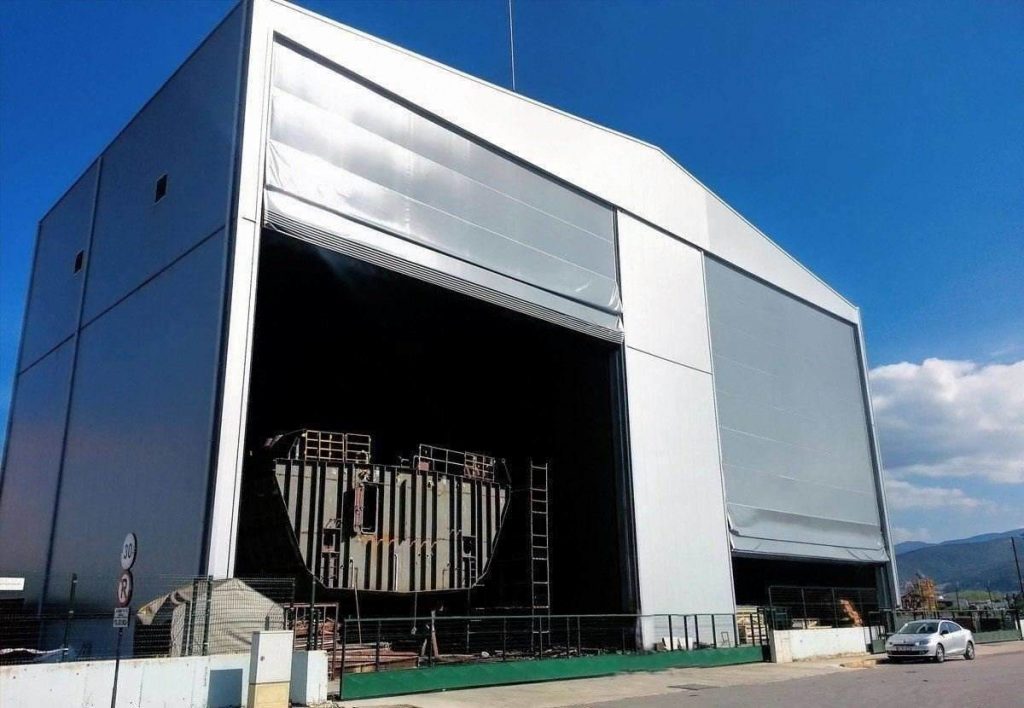 Shipyard Doors are suspended from the building structure. No load bearing concrete is required to support heavy fabricated doors.
Furthermore sliding doors run on tracks that are embedded into the concrete and are easily clogged with sand blasting grit, dirt and debris. With a fabric fold-up door these tracks are totally eliminated.
easy operation & maintenance
Fabric fold-up doors are very easy to use. The door is operated from a control panel. Simple press of a button opens or closes the door and stops it anywhere in between.
Maintenance is simple. The drives and door assembly requires only annual inspection and lubrication to keep in good operating order.
Even torn fabric is easy to repair. Apply a layer of heavy duty glue (the same glue used to make Zodiac inflatable boats) and paste on a patch of new fabric over the tear. Quick and easy with minimal downtime.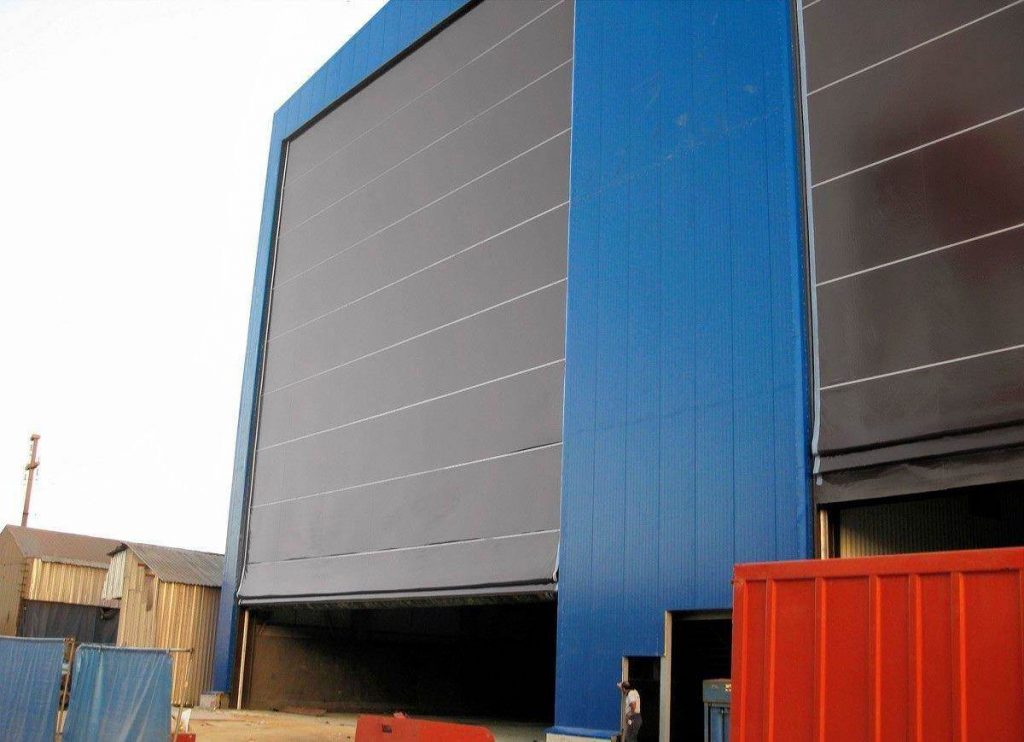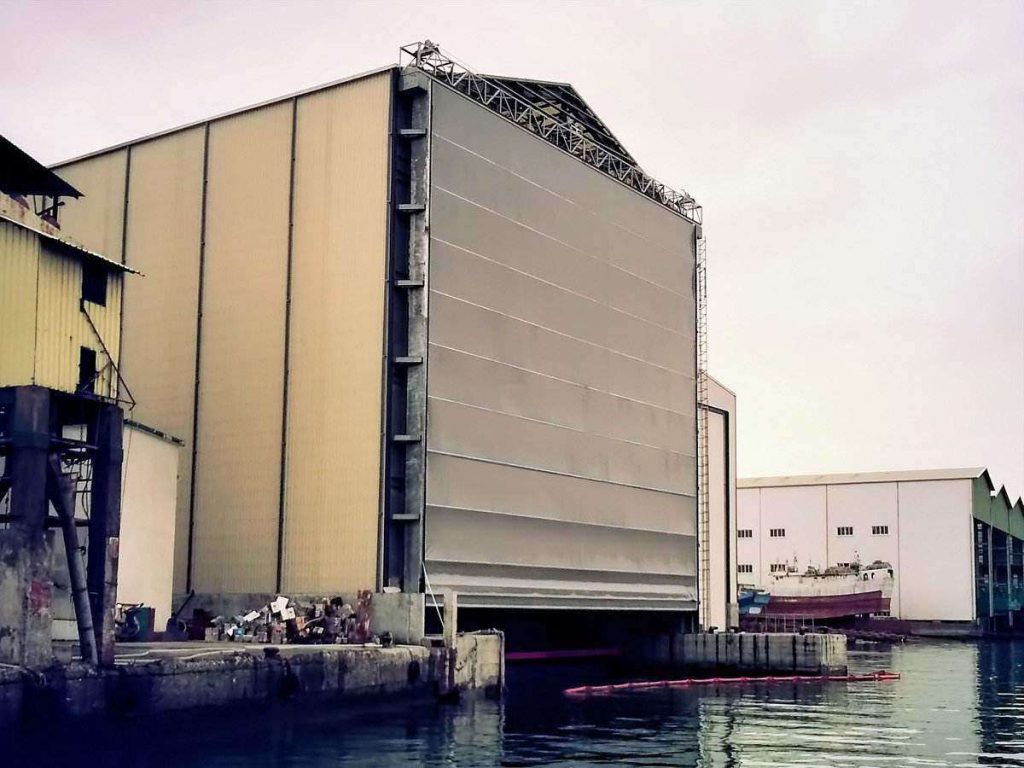 In case of cable breakage, automatic load arrestors engage to prevent uncontrolled door drop.
The whole door is powered by 2 electric drives (double redundency in case of one drive failure, the door can still be operated temporarily in emergency).
Double redundancy limit switches and sensors. Every item is fitted with back up component to ensure safe operation in case of electrical component failure.